Many of you will have sat down prior to or over the festive period and done some reflection on the previous year and have thought about how you might have done things differently. You might have also spent some time thinking about how you might approach business matters differently going forward.
A lot of business owners and managers get so wrapped up with the day-to-day operation of the business that other matters get side-tracked and forgotten about. Employment contracts are the perfect example.
I cannot tell you the number of times I have had queries from employers who face various issues with an employee whose relationship has deteriorated, but they have limited options available because they neglected to update their employment contracts.
I thought it would be a perfect time to write a short piece setting out the importance of having an updated employment contract in place for employees.
Do your employment contracts adequately cover your legal obligations?
Firstly, it is important to ensure that your contracts comply with the current legal requirements.
In April 2020 changes were introduced to Section 1 of the Employment Rights Act 1996 meaning that employees (including workers) must be given a written statement as to the terms and conditions of their employment. This can be done in the form of a contract.
The Employment Rights Act 1996 sets out the minimum amount of information that a written statement should contain. The written statement (also commonly referred to as a "Section 1 statement") can form the basis of an employment contract and should be given to the employee or worker, either before or at the latest, on the day the employment starts.
Despite these changes coming into effect almost 2 years ago, we still see many employment contracts that do not fulfil these obligations so I thought it would serve good purpose to explain what is required and why it is important.
What information is required in a section 1 statement/contract?
The law specifies that the following information must be clearly set out to the employee/worker: –
The names and addresses of both the employer and employee/worker.
The date when employment started or is due to start and the date the continuous employment began including details of any probationary period.
The job title or a brief description of the work.
The rate of pay or the method of calculating it and the interval of payment (for example, monthly or weekly).
The normal working hours and days of work and if these are variable, details of how they vary.
If the role is not permanent this must be clearly set out and where it is for a fixed term, the date the employment ends must be specified.
Holiday entitlement and holiday pay as well as entitlement to accrued holiday pay on termination of employment.
Details of sick leave and sick pay.
Details of other paid leave entitlements.
Details of any pensions or pension schemes applicable.
Details of any other benefits the employee or worker is entitled to and if these are to be non-contractual these should be clearly expressed.
The amount of notice the employee or the worker is entitled to give and receive.
Details of the normal place of work and whether they are required to work outside the UK for over a month. If they are to work outside the UK for more than a month you must provide details of the period, the currency to be received for working outside of the UK, any additional pay that is to be made for working outside the UK and any terms relating to their return to the UK.
Details of any training to be provided.
Details of any collective agreements applicable.
Details of the disciplinary and grievance procedures you have in place.
If you have a staff handbook which sets out the precise details of any matters contained in the contract of employment such as holiday and sick leave then you can simply refer the employee/worker to the relevant policy rather than setting out the detail within the section 1 statement or the contract.
It is good practice to have an up-to-date staff handbook containing all the policies and procedures covering employment related matters, but it is important to ensure that you do not make the staff handbook contractual.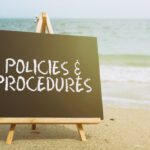 What is the importance and what are the consequences of not dealing with it?
The simple answer is that it is a legal requirement. Whilst failing to provide an employee or a worker with an adequate section 1 statement cannot in itself entitle an employee to bring a stand-alone claim for compensation in the Employment Tribunal, they could add it to another claim they are entitled to bring, for example unfair dismissal.
The amount of compensation available for breaching section 1 of the Employment Rights Act 1996 will depend on the circumstances but an employee or worker could get up to 4 weeks' basic pay (subject to the statutory cap). Alternatively, an employee or worker could make an application asking the Employment Tribunal to determine what the terms are based on the circumstances of their role.
The drawbacks in both these scenarios would be the potential reputational damage to the business which could then have a subsequential effect of hindering employment applications from good quality candidates being received. The best employees search for the best employers, and bad reviews and Employment Tribunal claims are likely to deter them from applying.
Another reason why it is important is that apart from the legal obligation, it is a matter of clarity which benefits both you and your employees. Having a contract or a written statement which clearly sets out the terms and conditions of employment avoids mistakes, confusion, and unnecessary disputes.
Why else should you consider updating your contract?
Apart from the mandatory information that is required, there may be additional terms that you may or may not have considered adding such as those in relation to:
Requiring an employee to work overtime.
Reserving the right to make deductions from future wages for overpayment of wages, training costs, damage to goods etc.
Restrictions of an employee's actions during their employment and the sanctions for breaching this.
Reserving the right to make a payment in lieu of notice.
Being able to put an employee on garden leave during their notice period, for example, to prevent any further incidents occurring or to prevent unauthorised use of confidential information.
Reserving the right to implement lay-off and short-time working arrangements in the event that there is a reduced need for the employee to work.
Preserving specific confidential information of the business.
Preserving intellectual property rights created during work.
Post-termination restrictions to preserve business following the departure of an employee.
What to do next?
The first thing to do is to carry out a review your contract template and see what information needs to be added. The obligation to provide the information set out above is for new employees or workers that you take on.
However, you may also wish to synchronise the changes to your contracts for your new employees with the contracts of your current employees to avoid any confusions going forward.
Whilst reviewing and updating your contracts, it is also a good opportunity to assess whether the terms of the contracts are suitable for each employee. You may find that you have complex contract clauses for those employees with junior roles which would be difficult to enforce. Equally you may have senior employees who have close relationships with business contacts that have inadequate clauses in their contracts to protect the business on their departure.
It is important to seek specialist advice when looking to review your contracts to ensure that the contracts specifically cover the needs of your business. It is also important to ensure that you follow the correct process when issuing updated contracts to current employees.
If you need any guidance or assistance with reviewing your contracts or any other questions, my colleagues and I would be happy to help so please feel free to get in contact.